shop infos
We ship to all coun­tries. If Your coun­try is not list­ed (out­side of EU-Zone), just ask for costs.
---
No more ex­change fees by Pay­Pal pay­ment.
You pay di­rect in British Pounds.


---
For buy­er out­side the € zone:
Don't look at this: https://trans­fer­wise.com/
I got an an­swer from Trans­fer­wise:
"Laut un­ser­er in­ter­nen Reg­ulierun­gen un­ter­stützen wir keine Über­weisun­gen im Bere­ich Schießs­port,
auch wenn es sich dabei um kom­plett le­git­ime Un­ternehmen und Über­weisun­gen han­delt."
It means: "Due to our in­ter­nal rules, we don't sup­port pay­ments for Shoot­ing sport. Even if the com­pa­ny is le­gal and le­git­im."
As You can see, for some com­pa­nies, the Olympic dis­ci­pline is not wor­thy enough to be served by them.
---
Some short in­struc­tions:
In the prod­uct list view You can see the items with coloured cor­ners: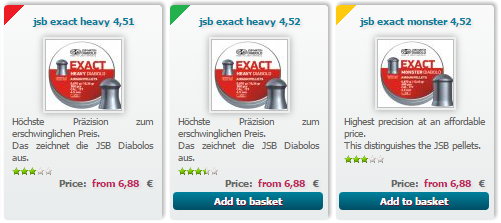 the red cor­ner means: not on the stock (so You can­not add it to bas­ket),
the green one: enough on the stock,
the yel­low one: not so many on the stock.
---

Click­ing a prod­uct, that is not on the stock, You can see a field for e-mail:

here You can in­put Your e-mail ad­dress and click OK, if You want to get a mes­sage, when the prod­uct ap­pears again in the shop.
---
On the right side of the page, there is a cal­en­dar.
The green marked field on the cal­en­dar means: on this day I bring new load of pel­lets.
These are 1000 km to drive (one di­rec­tion).
On this day I can­not send pack­ages, I can­not an­swer Your emails/ques­tions.
Thank You for un­der­stand­ing.
---
---